| | |
| --- | --- |
| | |
| | |
| | |
| | |
| | |
| | |
| | |
| | |
| | |
| | |
| | |
| | |
| | |
| | |
| | |
| | |
| | |
| | |
| | |
| | |
| | |
| | |
| | |
| | |
| | |
| | |
| | |
| | |
| | |
| | |
| | |
| | |
| | |
| | |
| | |
| | |
| | |
| | |
| | |
| | |
| | |
| | |
| | |
| | |
| | |
| | |
| | |
| | |
| | |
| | |
| | |
| | |
| | |
| | |
| | |
| | |
| | |
| | |
| | |
| | |
| | |
| | |
| | |
| | |
| | |
| | |
| | |
| | |
| | |
| | |
| | |
| | |
| | |
| | |
| | |
| | |
| | |
| | |
| | |


Artoria Roulette Wheel Limoges Box
Item 2047 - Retail price $329.95
Our Discount Price $276.99 - Save $52.95!
In Stock - Usually ships in 7-10 days
(your credit card will not be charged until item ships)

Gamblers, please place your bets! I'm betting that this roulette wheel will delight any collector! It is painted with wooden tones on the edges and the standard red and black slots on the wheel. The green slot is also there as well as the white ball. The cool feature of this box is that the center really turns - the entire center area including the metal handle and green inner circle will move around when you spin it! The clasp is a ball and inside is a sketch of a rolling, tumbling roulette ball. The box is marked Artoria Peint Main, Limoges France and is signed and numbered by the artist. Approximate size is 1¾ x 1 inches.

Copyright © 2017 GroundStrike Collectibles. All rights reserved. Do not copy.

Move mouse over pictures for different views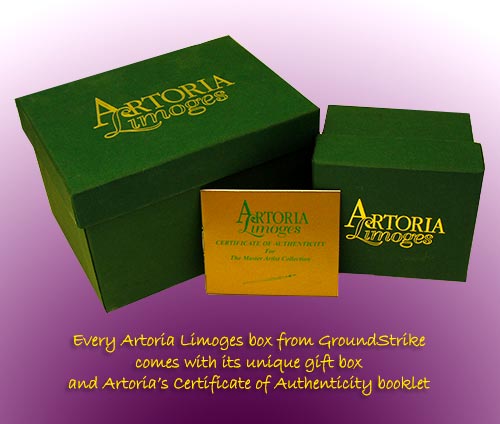 Every genuine Limoges box is an individual, hand crafted work of art. Colors, clasps, rims, details, and markings may vary from those shown. These photographs are from representative samples of this Limoges box; your box may not match this box exactly. Read About Limoges Boxes for more information.