| | |
| --- | --- |
| | |
| | |
| | |
| | |
| | |
| | |
| | |
| | |
| | |
| | |
| | |
| | |
| | |
| | |
| | |
| | |
| | |
| | |
| | |
| | |
| | |
| | |
| | |
| | |
| | |
| | |
| | |
| | |
| | |
| | |
| | |
| | |
| | |
| | |
| | |
| | |
| | |
| | |
| | |
| | |
| | |
| | |
| | |
| | |
| | |
| | |
| | |
| | |
| | |
| | |
| | |
| | |
| | |
| | |
| | |
| | |
| | |
| | |
| | |
| | |
| | |
| | |
| | |
| | |
| | |
| | |
| | |
| | |
| | |
| | |
| | |
| | |
| | |
| | |
| | |
| | |
| | |
| | |
| | |


Artoria Chewing Gum Limoges Box
Item 2118 - Retail price $229.95
Our Discount Price $189.95 - Save $40!
Special Order item - may take 1-3 months for delivery
(your credit card will not be charged until item ships; you may cancel order at any time)

Hey, anyone care for a stick of gum? It's sugarless and won't harm your teeth, well, not unless you try to chew it - porcelain can be pretty hard! <grin!> The package is bright yellow with CHEWING GUM written on it in red. A separate piece of gum is included and will slip right inside the package. There's even a UPC bar code on the side. The box is marked Artoria Peint Main, Limoges France and is signed and numbered by the artist. Approximate size is 3 x ¾ inches.

Copyright © 2017 GroundStrike Collectibles. All rights reserved. Do not copy.

Move mouse over pictures for different views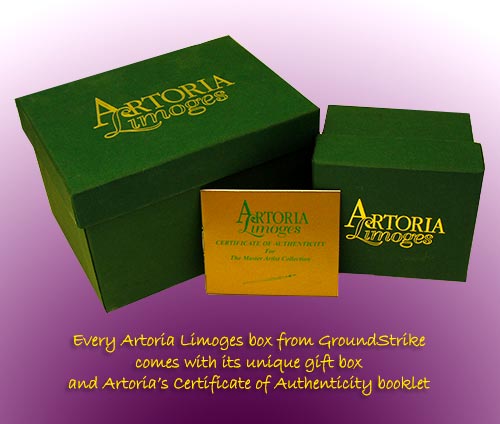 Every genuine Limoges box is an individual, hand crafted work of art. Colors, clasps, rims, details, and markings may vary from those shown. These photographs are from representative samples of this Limoges box; your box may not match this box exactly. Read About Limoges Boxes for more information.