| | |
| --- | --- |
| | |
| | |
| | |
| | |
| | |
| | |
| | |
| | |
| | |
| | |
| | |
| | |
| | |
| | |
| | |
| | |
| | |
| | |
| | |
| | |
| | |
| | |
| | |
| | |
| | |
| | |
| | |
| | |
| | |
| | |
| | |
| | |
| | |
| | |
| | |
| | |
| | |
| | |
| | |
| | |
| | |
| | |
| | |
| | |
| | |
| | |
| | |
| | |
| | |
| | |
| | |
| | |
| | |
| | |
| | |
| | |
| | |
| | |
| | |
| | |
| | |
| | |
| | |
| | |
| | |
| | |
| | |
| | |
| | |
| | |
| | |
| | |
| | |
| | |
| | |
| | |
| | |
| | |
| | |


Artoria Cat in Butterfly Bag Limoges Box
Item 2169 - Retail price $229.95
Our Discount Price $193.99 - Save $35.96!
In Stock - Usually ships in 7-10 days
(your credit card will not be charged until item ships)

Looks like someone has been shopping at the Cat Store! Or, more likely, this kitty has just crawled into the shopping bag as kitties are wont to do. She is a marmalade cat with a cute little face and pink ears, and she is clutching the chain handle that is attached to the sides of the bag. The bag is lovely! It is a teal blue with brightly colored butterflies all over. The box is marked Artoria Peint Main, Limoges France and is signed and numbered by the artist. Approximate size is 1½ x 2½ inches.

Copyright © 2017 GroundStrike Collectibles. All rights reserved. Do not copy.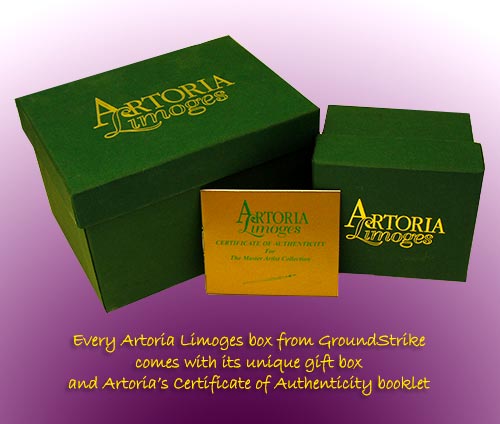 Every genuine Limoges box is an individual, hand crafted work of art. Colors, clasps, rims, details, and markings may vary from those shown. These photographs are from representative samples of this Limoges box; your box may not match this box exactly. Read About Limoges Boxes for more information.