| | |
| --- | --- |
| | |
| | |
| | |
| | |
| | |
| | |
| | |
| | |
| | |
| | |
| | |
| | |
| | |
| | |
| | |
| | |
| | |
| | |
| | |
| | |
| | |
| | |
| | |
| | |
| | |
| | |
| | |
| | |
| | |
| | |
| | |
| | |
| | |
| | |
| | |
| | |
| | |
| | |
| | |
| | |
| | |
| | |
| | |
| | |
| | |
| | |
| | |
| | |
| | |
| | |
| | |
| | |
| | |
| | |
| | |
| | |
| | |
| | |
| | |
| | |
| | |
| | |
| | |
| | |
| | |
| | |
| | |
| | |
| | |
| | |
| | |
| | |
| | |
| | |
| | |
| | |
| | |
| | |
| | |


Artoria Wall Street Bear Limoges Box
Item 2179 - Retail price $197.95
Our Discount Price $167.99 - Save $29.96!
In Stock - Usually ships in 7-10 days
(your credit card will not be charged until item ships)

The Market may be bear, but this Bear looks like he's doing pretty good! He's dressed in a smart grey suit and is holding a tiny pocket watch with a real chain. The base has several financial statements on it such as Wall Street Journal, Record Lows, Sluggish, etc. - all signs of a real Bear market! The box is marked Artoria Peint Main, Limoges France and is signed and numbered by the artist. Approximate size is 1½ x 3¼ inches.

Copyright © 2017 GroundStrike Collectibles. All rights reserved. Do not copy.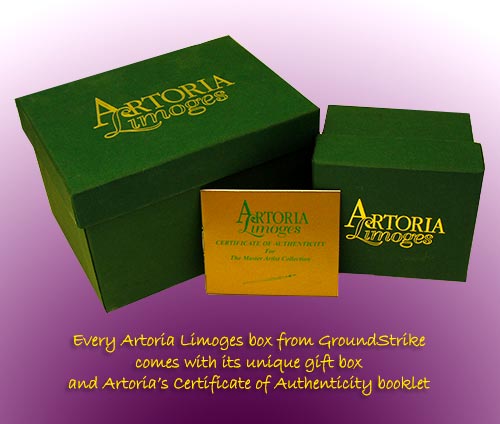 Every genuine Limoges box is an individual, hand crafted work of art. Colors, clasps, rims, details, and markings may vary from those shown. These photographs are from representative samples of this Limoges box; your box may not match this box exactly. Read About Limoges Boxes for more information.