| | |
| --- | --- |
| | |
| | |
| | |
| | |
| | |
| | |
| | |
| | |
| | |
| | |
| | |
| | |
| | |
| | |
| | |
| | |
| | |
| | |
| | |
| | |
| | |
| | |
| | |
| | |
| | |
| | |
| | |
| | |
| | |
| | |
| | |
| | |
| | |
| | |
| | |
| | |
| | |
| | |
| | |
| | |
| | |
| | |
| | |
| | |
| | |
| | |
| | |
| | |
| | |
| | |
| | |
| | |
| | |
| | |
| | |
| | |
| | |
| | |
| | |
| | |
| | |
| | |
| | |
| | |
| | |
| | |
| | |
| | |
| | |
| | |
| | |
| | |
| | |
| | |
| | |
| | |
| | |
| | |
| | |


Artoria Victorian Dollhouse Limoges Box
Item 2190 - Retail price $389.95
Our Discount Price $325.99 - Save $63.95!
In Stock - Usually ships in 7-10 days
(your credit card will not be charged until item ships)

Here is an incredible three story Victorian dollhouse, painted in deep pink with windows of royal purple. Tiny white shutters are open to let in the light, and the door is nestled under a triple arched covering on white columns. There is intricate metal trim around each of the brown roof tops, white accents under the eaves and a bas relief shingled roof. The inside is empty - just as in a traditional dollhouse, YOU get to furnish it! Approximate size is 2¾ x 2 x 3 inches.

Copyright © 2017 GroundStrike Collectibles. All rights reserved. Do not copy.

Move mouse over pictures for different views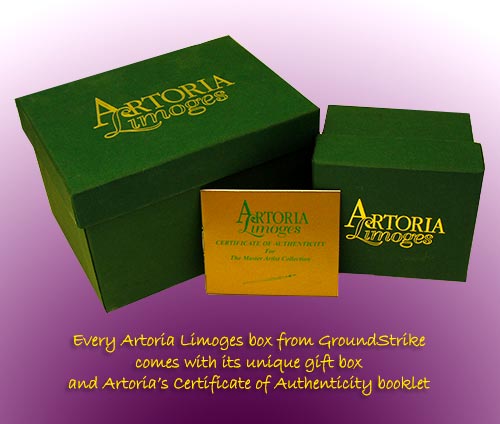 Every genuine Limoges box is an individual, hand crafted work of art. Colors, clasps, rims, details, and markings may vary from those shown. These photographs are from representative samples of this Limoges box; your box may not match this box exactly. Read About Limoges Boxes for more information.