| | |
| --- | --- |
| | |
| | |
| | |
| | |
| | |
| | |
| | |
| | |
| | |
| | |
| | |
| | |
| | |
| | |
| | |
| | |
| | |
| | |
| | |
| | |
| | |
| | |
| | |
| | |
| | |
| | |
| | |
| | |
| | |
| | |
| | |
| | |
| | |
| | |
| | |
| | |
| | |
| | |
| | |
| | |
| | |
| | |
| | |
| | |
| | |
| | |
| | |
| | |
| | |
| | |
| | |
| | |
| | |
| | |
| | |
| | |
| | |
| | |
| | |
| | |
| | |
| | |
| | |
| | |
| | |
| | |
| | |
| | |
| | |
| | |
| | |
| | |
| | |
| | |
| | |
| | |
| | |
| | |
| | |


Chamart Organ with Monkey Limoges Box
Item 3087 - Retail price $251.95
Our Discount Price $213.95 - Save $38!
Special Order item - may take 1-3 months for delivery
(your credit card will not be charged until item ships; you may cancel order at any time)

This street organ is fantastic! It is gold with black and white detailing and curly queues along the sides. There is a gold bar on the back for pushing, and the two back wheels are mounted on a metal axis so they roll quite well! The wheel in front is fixed and doesn't move. And. no organ would be complete without a monkey! Sitting on top is the cutest little monkey, just waiting for someone to come play with him. The box is marked Chamart Peint Main, Limoges France. Approximate size is 2¼ x 2¾ inches.

Copyright © 2016 GroundStrike Collectibles. All rights reserved. Do not copy.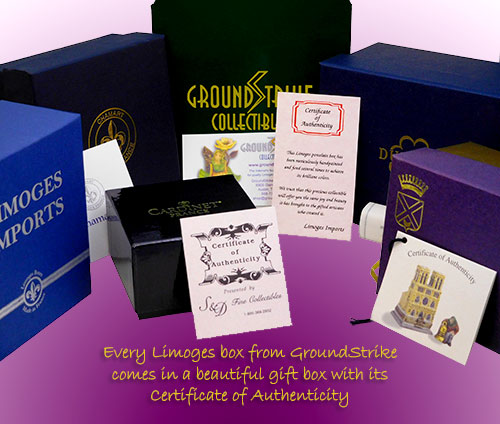 Every genuine Limoges box is an individual, hand crafted work of art. Colors, clasps, rims, details, and markings may vary from those shown. These photographs are from representative samples of this Limoges box; your box may not match this box exactly. Read About Limoges Boxes for more information.