| | |
| --- | --- |
| | |
| | |
| | |
| | |
| | |
| | |
| | |
| | |
| | |
| | |
| | |
| | |
| | |
| | |
| | |
| | |
| | |
| | |
| | |
| | |
| | |
| | |
| | |
| | |
| | |
| | |
| | |
| | |
| | |
| | |
| | |
| | |
| | |
| | |
| | |
| | |
| | |
| | |
| | |
| | |
| | |
| | |
| | |
| | |
| | |
| | |
| | |
| | |
| | |
| | |
| | |
| | |
| | |
| | |
| | |
| | |
| | |
| | |
| | |
| | |
| | |
| | |
| | |
| | |
| | |
| | |
| | |
| | |
| | |
| | |
| | |
| | |
| | |
| | |
| | |
| | |
| | |
| | |
| | |


Chamart Christmas Cookies on a Tray Limoges Box
Item 3228 - Retail price $279.95
Our Discount Price $237.95 - Save $42!
Special Order item - may take 1-3 months for delivery
(your credit card will not be charged until item ships; you may cancel order at any time)

Mmm, the smell of holiday baking fills the air! A tray filled with gingerbread treats is the perfect addition to your holiday Limoges collection. Three colorful gingerbread houses, a gingerbread man, and a star-shaped cookie are all arranged on a tray decorated with holly berries. It even has a Santa clasp! Open the box and tucked inside you'll find a gingerbread man, but be careful he doesn.t run away! Approximate size is 2½ x 1¾ x 1 inches.

Copyright © 2016 GroundStrike Collectibles. All rights reserved. Do not copy.

Move mouse over pictures for different views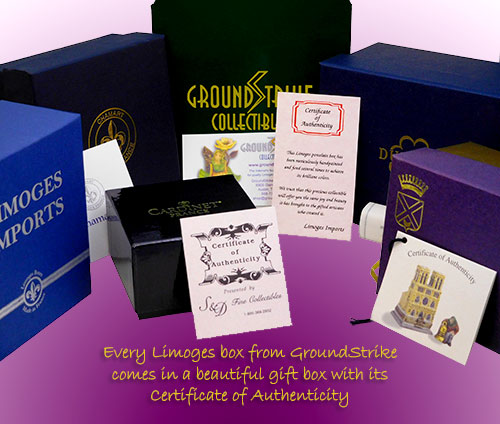 Every genuine Limoges box is an individual, hand crafted work of art. Colors, clasps, rims, details, and markings may vary from those shown. These photographs are from representative samples of this Limoges box; your box may not match this box exactly. Read About Limoges Boxes for more information.