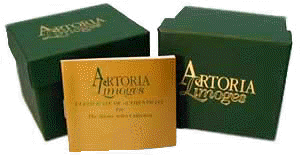 Artoria Limoges is a family-owned porcelain business located on the banks of the Vienne River in the city of Limoges, France and is the leading manufacturer of porcelain giftware. They have been in existence for several generations and continue to produce some of the most beautiful and treasured porcelain artifacts in the region. Artoria controls all phases of production: they manufacture their own porcelain and employ an extensive team of sculptors, artists and designers, all of whom contribute to the creation of the company's unique and intricately detailed collectible Limoges boxes. Artoria has produced thousands of different Limoges boxes and continues to add hundreds of new pieces to its collection every year. They also have several other product lines including larger giftware, dinnerware and hand-painted jewelry.
Artoria artists employ many of the same techniques that have been used by Limoges artisans for centuries to decorate their famous porcelain. Their boxes are not merely beautiful collectible pieces, but they also share a long, rich tradition and history. These charming boxes first appeared in France in the 18th century. They were known as "tabatieres". French aristocrats and high society used the boxes as containers to hold snuff tobacco. It was a habit enjoyed only by the very wealthy and became the vogue for well-bred noblemen and women to carry unique and expensive snuffboxes with them so they could impress their social peers.
Porcelain snuffboxes were as varied and unusual as they are today. They appeared in all shapes and sizes, some in whimsical forms, and other more "traditional" boxes, decorated with miniature landscapes, portraits or other decorative motifs. Today, these boxes have become enormously popular, although they are now uniquely collectible items and are no longer used as snuff containers. Because each piece is richly detailed and handpainted, there will be slight variations in color, brush strokes and hinges. This makes each one of the boxes splendidly unique! Most of the Artoria boxes are part of a limited edition series. After Artoria retires a piece, the molds will be destroyed forever and the piece becomes a part of Limoges history, increasing its value for collectors.