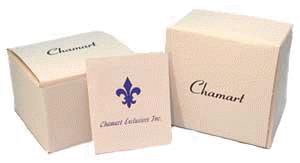 The Original Limoges Box
Limoges is like champagne - both are associated with the ultimate in quality, brought out on celebratory occasions when only the very best will do.
But while sparkling wines are made in many parts of the world, only those born and bottled in the Champagne region of France are legally allowed to be called Champagne. Thus, while porcelain is made in many countries, only porcelain made in the Limoges region in west-central France may be called Limoges.
A center of the arts since the Middle Ages, Limoges is the epicenter of the French porcelain industry. The art - and it is art, not manufacture - of Limoges boxes remains largely with small studios of five or six craftspeople - very literally a cottage industry. To keep up with enormous demand, Chamart works with numerous studios, each with its own specialty.
The French Connection
Chamart is a contraction of the name of its founder, Charles Martine, one of the "personalities" of the gift and tabletop business. As the result of the devastation inflicted on France by World War II, there was little product to import; only Haviland imported French porcelain - and only its own product. Martine was the first to bring a variety of French porcelains into the U.S. He created the company in the early 1950's and moved to 225 Fifth Avenue, where it remains as one of the building's oldest tenants.
Originally Martine's line was limited to dinnerware and handpainted ceramics - predominantly gift items, serving accessories and crystal. Limoges boxes, for which the company is now world famous, remained in the future. "My uncle was very conservative," says Leny Davidson, current Chamart president. "Our box line developed slowly over the past 30 or so years."
The Limoges Box business was born in 1965 with larger decorative boxes - "coffee table" pieces. Leny is now attempting to restore boxes from the original collection, intending to accumulate one of every box in the history of the company to create a special museum-like display called "Vintage Chamart. "
The Process of Creation
The words "factory" and "manufacturing" seem rather extravagant to describe the Limoges box "industry." The only true manufacturing process is that of creating the actual porcelain paste, small amounts of which are sent to each "factory" to be molded and fired.
"We use many different studios for painting," says Davidson, "because we have such a wide and varied line, and each studio has its specialty. One painter might be a master with animals, while another might specialize in flowers." All production is hand painted. "We use no decals, no stencils - no shortcut techniques at all," she adds.
In this world of collectibles, just how "collectible" are Chamart's boxes? Davidson herself is highly critical of some of the so-called "limited editions" sold throughout the industry. "Normal production is around 750 to 850 of each box, and we don't consider them 'limited editions,"' she says. "But I see items that number in the thousands advertised as 'limited editions.' Limitless editions would be more accurate!" A true limited edition can only be made on a piece that ceases to be produced when the edition is completed. One cannot simply change a color and call a piece limited.
Each Chamart box, while not strictly limited, is restricted by the physical limitations of the process itself.
The porcelain paste is cast in three dimensional molds painstakingly carved from plaster of Paris. Usually ten molds are made for each model, and each mold can produce no more than 75 to 85 pieces before becoming worn so that the finished piece loses detail.
Ten molds, 75 to 85 pieces each - in other words, every Chamart box, except under exceptional circumstances, is limited to 750 to 850 pieces. A numbering system indicates the year the model was introduced (first two digits of the style number indicate the year). Limited editions? Not strictly. Collectible? Most definitely!
Chamart does create genuinely limited pieces, limited because they are made entirely by hand. "We have a very old, very talented gentleman in France who makes each of our miniature flowerpots by hand," says Davidson. "Not only is the model limited , but each piece is different. The handle is hand-twisted, each flower is made by hand, then inserted by hand. The maximum for any one such piece is 300."
Magic Boxes
With more than 2,500 Limoges boxes in the current collection, it would be far easier to enumerate boxes that Chamart doesn't make. Every conceivable category seems to be represented - holidays, hearts, books, animals, cigars (more than 750 of which were sold immediately on introduction, an indication of how cigars were "smoking"!), clothing (hats, shoes, shirts), luggage, vehicles, vegetables, fruits etc. ad infiniturn - all created with astonishing detail, grace and exquisitely orchestrated colors.
Chamart Limoges boxes range up to $425 retail, with the average box selling between $150 and $210. A lot for something so small and delicate? Not when you pick one up and examine its incredible detail. Each box is a tribute not only to the craftsmanship of these remaining Limoges studios - that's obvious - but as well to their feel for form, their appreciation of the beauty of nature and - perhaps most of all - their tongue-in-cheek humor and delight in surprise.
Proof is that most Chamart Limoges boxes are sold in museum shops, fine jewelry stores and specialty department stores such as Gumps, Nieman Marcus and Nordstrom's. "We really built our business on the independent store," says Davidson, which is the more loyal customer. We've still got two clients who have bought continuously since 1955."
Is that all there is at Chamart?
One might think that making, importing, selling and keeping track of a line of 2,500 ever-changing items might be more than enough. Yet Chamart offers a variety of additional products, for instance beaded flowers. "We've offered handmade beaded flowers for 35 years," says Davidson, " made of course, in France; but then they stopped making them there. Beaded flowers are popular again, so for the first time, we've gone outside of France - we're having them made in Italy!" Another Italian company now provides Chamart with glass flowers as well - gorgeously colored, with separate petals mounted on the wires, far more flexible than the average glass flower (prices range from $21 to $70).
Chamart still carries an enormous variety in addition to its boxes: full lines of bath and boudoir accessories, stationery accessories, dinnerware, handpainted ceramics and decorative items - all, of course, from France. But it's the boxes, those tiny fantasies frozen in delicate porcelain, for which Chamart will be forever known.