| | |
| --- | --- |
| | |
| | |
| | |
| | |
| | |
| | |
| | |
| | |
| | |
| | |
| | |
| | |
| | |
| | |
| | |
| | |
| | |
| | |
| | |
| | |
| | |
| | |
| | |
| | |
| | |
| | |
| | |
| | |
| | |
| | |
| | |
| | |
| | |
| | |
| | |
| | |
| | |
| | |
| | |
| | |
| | |
| | |
| | |
| | |
| | |
| | |
| | |
| | |
| | |
| | |
| | |
| | |
| | |
| | |
| | |
| | |
| | |
| | |
| | |
| | |
| | |
| | |
| | |
| | |
| | |
| | |
| | |
| | |
| | |
| | |
| | |
| | |
| | |
| | |
| | |
| | |
| | |
| | |
| | |


Artoria Lovebirds in Cage Limoges Box
Item 2014 - Retail price $553.95
Our Discount Price $427.95 - Save $126!
Special Order item - may take 1-3 months for delivery
(your credit card will not be charged until item ships; you may cancel order at any time)

This terrific birdcage has a feature that most birds would love - the wire cage is removable! It lifts right off the top allowing the birds the freedom to move around a bit. These two tanager birds are cozy on top of their branch. They have beautiful feathers with all kinds of colors, and the male is very colorful! A bowl of bird food is sitting on the bottom of the cage. The base looks like it is made of a soft gray marble. The clasp is a flying bird and there is a bird nest in a tree painted inside. The box is marked Artoria Peint Main, Limoges France and is signed and numbered by the artist. Approximate size is 2¾ x 4½ inches.

Copyright © 2020 GroundStrike Collectibles. All rights reserved.

Move mouse over pictures for different views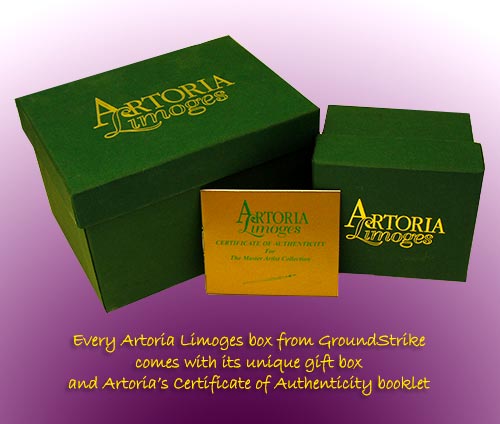 Every genuine Limoges box is an individual, hand crafted work of art. Colors, clasps, rims, details, and markings may vary from those shown. These photographs are from representative samples of this Limoges box; your box may not match this box exactly. Read About Limoges Boxes for more information.