| | |
| --- | --- |
| | |
| | |
| | |
| | |
| | |
| | |
| | |
| | |
| | |
| | |
| | |
| | |
| | |
| | |
| | |
| | |
| | |
| | |
| | |
| | |
| | |
| | |
| | |
| | |
| | |
| | |
| | |
| | |
| | |
| | |
| | |
| | |
| | |
| | |
| | |
| | |
| | |
| | |
| | |
| | |
| | |
| | |
| | |
| | |
| | |
| | |
| | |
| | |
| | |
| | |
| | |
| | |
| | |
| | |
| | |
| | |
| | |
| | |
| | |
| | |
| | |
| | |
| | |
| | |
| | |
| | |
| | |
| | |
| | |
| | |
| | |
| | |
| | |
| | |
| | |
| | |
| | |
| | |
| | |


Artoria You'd Better Not Pout by Lynn Haney Limoges Box
Item 2020 - Retail price $564.95
Our price too low to display - add to cart to see price!
(you can always remove it later)
Special Order item - may take 1-3 months for delivery
(your credit card will not be charged until item ships; you may cancel order at any time)

Another exquisitely detailed Limoges box by Lynn Haney for Artoria. Santa Claus is coming to town in style! And he has company - a cute little dog with a bright red bow. Santa is dressed in his traditional red outfit with white trim. It's hard to tell where the trim leaves off and his curly white beard begins! He has a wreath and a rocking horse attached to his belt, and it looks like he has a long list in his hand, so he may be checking it twice to be sure he should stop at YOUR house....Ho, Ho, Ho! An empty gift box is painted inside. Approximate size is 2 x 1¾ x 2¾ inches.

Copyright © 2020 GroundStrike Collectibles. All rights reserved.

Move mouse over pictures for different views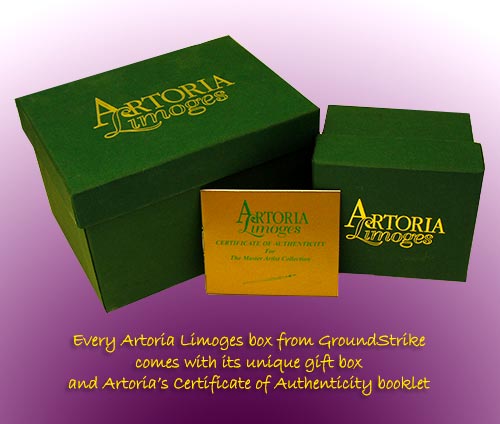 Every genuine Limoges box is an individual, hand crafted work of art. Colors, clasps, rims, details, and markings may vary from those shown. These photographs are from representative samples of this Limoges box; your box may not match this box exactly. Read About Limoges Boxes for more information.