| | |
| --- | --- |
| | |
| | |
| | |
| | |
| | |
| | |
| | |
| | |
| | |
| | |
| | |
| | |
| | |
| | |
| | |
| | |
| | |
| | |
| | |
| | |
| | |
| | |
| | |
| | |
| | |
| | |
| | |
| | |
| | |
| | |
| | |
| | |
| | |
| | |
| | |
| | |
| | |
| | |
| | |
| | |
| | |
| | |
| | |
| | |
| | |
| | |
| | |
| | |
| | |
| | |
| | |
| | |
| | |
| | |
| | |
| | |
| | |
| | |
| | |
| | |
| | |
| | |
| | |
| | |
| | |
| | |
| | |
| | |
| | |
| | |
| | |
| | |
| | |
| | |
| | |
| | |
| | |
| | |
| | |


Artoria Wedding Cake Limoges Box
Item 2060 - Retail price $399.95
Our Discount Price $329.95 - Save $70!
Special Order item - may take 1-3 months for delivery
(your credit card will not be charged until item ships; you may cancel order at any time)

This is a breathtakingly beautiful wedding cake and would be a perfect gift for the Bride (or Groom) To-Be, or for anyone celebrating an anniversary! It is a three-tiered cake decorated in a pale yellow icing with floral wreaths accenting each layer. The tiny bride and groom on top are standing under a metal arch holding hands, and a generous garland of flowers is cascading down the front as if it's a floral carpet on which the happy couple will descend. The clasp is a pair of intertwined hearts and a garland of flowers shaped in a heart with two golden wedding rings in the center is painted inside. Approximate size is 2¼ x 2¼ x 2¾ inches.

Copyright © 2018 GroundStrike Collectibles. All rights reserved. Commercial use prohibited.

Move mouse over pictures for different views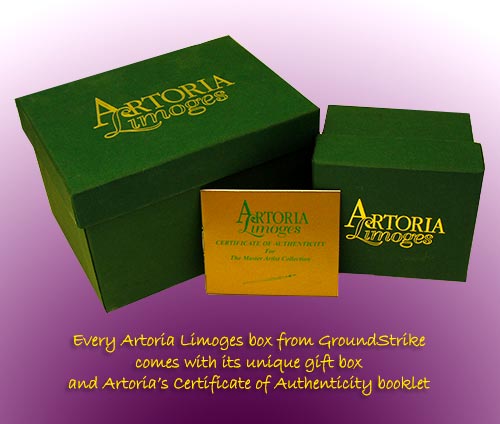 Every genuine Limoges box is an individual, hand crafted work of art. Colors, clasps, rims, details, and markings may vary from those shown. These photographs are from representative samples of this Limoges box; your box may not match this box exactly. Read About Limoges Boxes for more information.