| | |
| --- | --- |
| | |
| | |
| | |
| | |
| | |
| | |
| | |
| | |
| | |
| | |
| | |
| | |
| | |
| | |
| | |
| | |
| | |
| | |
| | |
| | |
| | |
| | |
| | |
| | |
| | |
| | |
| | |
| | |
| | |
| | |
| | |
| | |
| | |
| | |
| | |
| | |
| | |
| | |
| | |
| | |
| | |
| | |
| | |
| | |
| | |
| | |
| | |
| | |
| | |
| | |
| | |
| | |
| | |
| | |
| | |
| | |
| | |
| | |
| | |
| | |
| | |
| | |
| | |
| | |
| | |
| | |
| | |
| | |
| | |
| | |
| | |
| | |
| | |
| | |
| | |
| | |
| | |
| | |
| | |


Artoria Floral Kimono Limoges Box
Item 2082 - Retail price $399.95
Our Discount Price $333.99 - Save $65.95!
In Stock - Usually ships in 7-10 days
(your credit card will not be charged until item ships)

This gorgeous kimono is decorated with incredible oriental flair in bright colors of red, purple, blue and gold. There are bold flowers and lovely coordinating stripes. The clasp is a flower blossom and there is a tiny sandal painted inside! The box is marked Artoria Peint Main, Limoges France and is signed and numbered by the artist. Approximate size is 2¾ x 3 inches.

Copyright © 2017 GroundStrike Collectibles. All rights reserved. Do not copy.

Move mouse over pictures for different views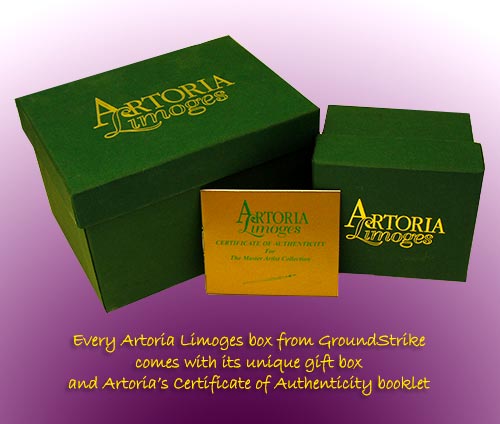 Every genuine Limoges box is an individual, hand crafted work of art. Colors, clasps, rims, details, and markings may vary from those shown. These photographs are from representative samples of this Limoges box; your box may not match this box exactly. Read About Limoges Boxes for more information.