| | |
| --- | --- |
| | |
| | |
| | |
| | |
| | |
| | |
| | |
| | |
| | |
| | |
| | |
| | |
| | |
| | |
| | |
| | |
| | |
| | |
| | |
| | |
| | |
| | |
| | |
| | |
| | |
| | |
| | |
| | |
| | |
| | |
| | |
| | |
| | |
| | |
| | |
| | |
| | |
| | |
| | |
| | |
| | |
| | |
| | |
| | |
| | |
| | |
| | |
| | |
| | |
| | |
| | |
| | |
| | |
| | |
| | |
| | |
| | |
| | |
| | |
| | |
| | |
| | |
| | |
| | |
| | |
| | |
| | |
| | |
| | |
| | |
| | |
| | |
| | |
| | |
| | |
| | |
| | |
| | |
| | |


Artoria Peace Hand Limoges Box
Item 2132 - Retail price $269.95
Our Discount Price $226.99 - Save $42.96!
In Stock - Usually ships in 7-10 days
(your credit card will not be charged until item ships)

Here's a box to help you remember the 60s and 70's, when love, peace, hippies and tie-dyed clothing were all the rage. This hand is flashing the Peace sign, which became a favorite alternative to a wave for several years. There is a leather bracelet circling the wrist, and since these were popular with both men and women, this hand could be either male or female. There is a peace sign painted inside. The box is marked Artoria Peint Main, Limoges France and is signed and numbered by the artist. Approximate size is 1¼ x 2¾ inches.

Copyright © 2018 GroundStrike Collectibles. All rights reserved. Commercial use prohibited.

Move mouse over pictures for different views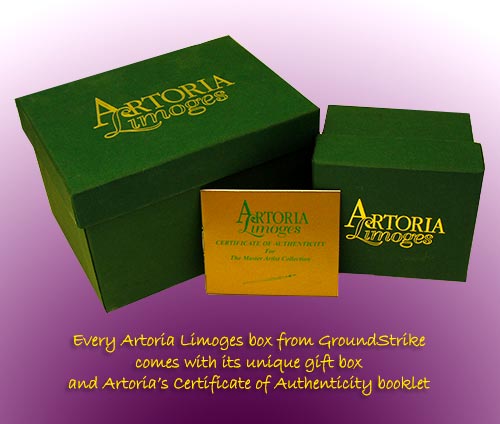 Every genuine Limoges box is an individual, hand crafted work of art. Colors, clasps, rims, details, and markings may vary from those shown. These photographs are from representative samples of this Limoges box; your box may not match this box exactly. Read About Limoges Boxes for more information.