| | |
| --- | --- |
| | |
| | |
| | |
| | |
| | |
| | |
| | |
| | |
| | |
| | |
| | |
| | |
| | |
| | |
| | |
| | |
| | |
| | |
| | |
| | |
| | |
| | |
| | |
| | |
| | |
| | |
| | |
| | |
| | |
| | |
| | |
| | |
| | |
| | |
| | |
| | |
| | |
| | |
| | |
| | |
| | |
| | |
| | |
| | |
| | |
| | |
| | |
| | |
| | |
| | |
| | |
| | |
| | |
| | |
| | |
| | |
| | |
| | |
| | |
| | |
| | |
| | |
| | |
| | |
| | |
| | |
| | |
| | |
| | |
| | |
| | |
| | |
| | |
| | |
| | |
| | |
| | |
| | |
| | |


Artoria Dodo Bird Limoges Box
Item 2135 - Retail price $389.95
Our Discount Price $321.95 - Save $68!
Special Order item - may take 1-3 months for delivery
(your credit card will not be charged until item ships; you may cancel order at any time)

This box is part of Artoria's Endangered Species Collection. Artoria will donate 10% of the sales proceeds of the Endangered Species Collection to three conservation groups: Rainforest Foundation, Wildlife Conservation Society and Tanzania Wildlife Fund. The dodo is perhaps the most famous extinct animal in the world. First discovered by the Europeans in 1507, it was already extinct by the year 1681. This large, flightless bird lived exclusively on the island of Mauritius in the Indian Ocean. Its demise was caused by the same threat that faces most species today: mankind. The bird was a good source of food for settlers and sailors. in addition, the growing human population resulted in deforestation and destruction of the bird's natural habitat. The new settlers brought with them and introduced to the island for the first time such mammals as goats, cats, pigs and monkeys, which became competitors for the dodo's food sources as well as predators. There are undoubtedly many lessons to be learned by us today from how the dodo became extinct. This dodo is definitely an interesting looking bird with his long multi-colored beak and short tail fathers. He is standing on a green field with lovely blue flowers. The clasp is a bird and tucked inside is a diploma from the Evolution University. The box is marked Artoria Peint Main, Limoges France and is signed and numbered by the artist. Approximate size is 2 inches.

Copyright © 2018 GroundStrike Collectibles. All rights reserved. Commercial use prohibited.

Move mouse over pictures for different views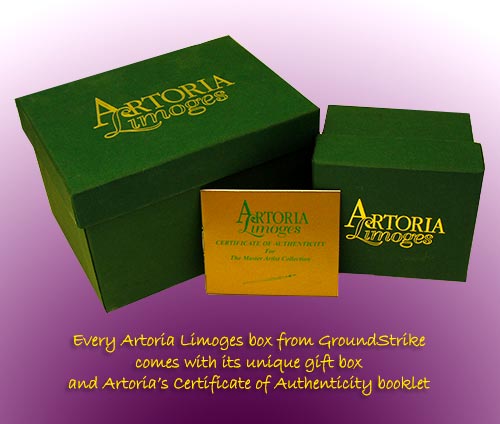 Every genuine Limoges box is an individual, hand crafted work of art. Colors, clasps, rims, details, and markings may vary from those shown. These photographs are from representative samples of this Limoges box; your box may not match this box exactly. Read About Limoges Boxes for more information.