| | |
| --- | --- |
| | |
| | |
| | |
| | |
| | |
| | |
| | |
| | |
| | |
| | |
| | |
| | |
| | |
| | |
| | |
| | |
| | |
| | |
| | |
| | |
| | |
| | |
| | |
| | |
| | |
| | |
| | |
| | |
| | |
| | |
| | |
| | |
| | |
| | |
| | |
| | |
| | |
| | |
| | |
| | |
| | |
| | |
| | |
| | |
| | |
| | |
| | |
| | |
| | |
| | |
| | |
| | |
| | |
| | |
| | |
| | |
| | |
| | |
| | |
| | |
| | |
| | |
| | |
| | |
| | |
| | |
| | |
| | |
| | |
| | |
| | |
| | |
| | |
| | |
| | |
| | |
| | |
| | |
| | |


Artoria Golden Lion Tamarin Limoges Box
Item 2136 - Retail price $599.95
Our Discount Price $498.99 - Save $100.96!
In Stock - Usually ships in 7-10 days
(your credit card will not be charged until item ships)

This box is part of Artoria's Endangered Species Collection. Artoria will donate 10% of the sales proceeds of the Endangered Species Collection to three conservation groups: Rainforest Foundation, Wildlife Conservation Society and Tanzania Wildlife Fund. The golden lion tamarin is only found in a small area of Brazil to the northeast of Rio de Janeiro. Only 400 of these small primates are left in the wild. Their habitat, primarily tropical rainforests along the Atlantic coast with dense forest growth for tree nests, cover and pathways has been largely destroyed in recent years by plantation development, housing, road building, logging and cattle grazing. In addition, tamarins are hunted for sale as pets in nearby cities, and are highly susceptible to human viruses and diseases. in 1974, a game preserve was established in Brazil to protect the golden lion tamarin and encompasses roughly 14,000 acres of which only half is comprised of a mature rainforest. Since 1984, there have been some successful efforts to reintroduce captive tamarins back into the wild. This cute fellow is sitting on the top of a palm tree, right in the middle of the big green fronds. His face looks like a tiny lion and his long tail hand down the back of the tree. The clasp is a leaf and there is a tiny palm tree tucked inside. The box is marked Artoria Peint Main, Limoges France and is signed and numbered by the artist. Approximate size is 1¼ x 2¾ inches.

Copyright © 2017 GroundStrike Collectibles. All rights reserved. Do not copy.

Move mouse over pictures for different views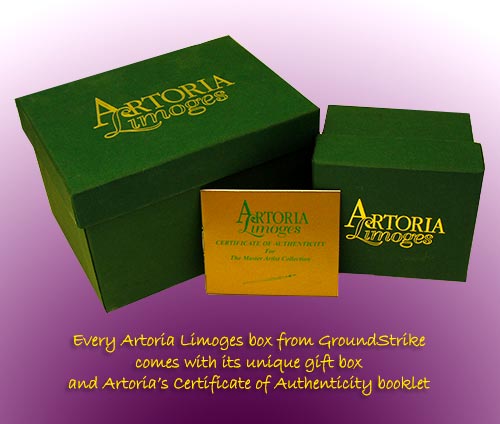 Every genuine Limoges box is an individual, hand crafted work of art. Colors, clasps, rims, details, and markings may vary from those shown. These photographs are from representative samples of this Limoges box; your box may not match this box exactly. Read About Limoges Boxes for more information.