| | |
| --- | --- |
| | |
| | |
| | |
| | |
| | |
| | |
| | |
| | |
| | |
| | |
| | |
| | |
| | |
| | |
| | |
| | |
| | |
| | |
| | |
| | |
| | |
| | |
| | |
| | |
| | |
| | |
| | |
| | |
| | |
| | |
| | |
| | |
| | |
| | |
| | |
| | |
| | |
| | |
| | |
| | |
| | |
| | |
| | |
| | |
| | |
| | |
| | |
| | |
| | |
| | |
| | |
| | |
| | |
| | |
| | |
| | |
| | |
| | |
| | |
| | |
| | |
| | |
| | |
| | |
| | |
| | |
| | |
| | |
| | |
| | |
| | |
| | |
| | |
| | |
| | |
| | |
| | |
| | |
| | |


Artoria Jaguar Limoges Box
Item 2137 - Retail price $199.95
Our Discount Price $168.99 - Save $30.96!
In Stock - Usually ships in 7-10 days
(your credit card will not be charged until item ships)

This box is part of Artoria's Endangered Species Collection. Artoria will donate 10% of the sales proceeds of the Endangered Species Collection to three conservation groups: Rainforest Foundation, Wildlife Conservation Society and Tanzania Wildlife Fund. The ancient Mayans believed that the jaguar's skin symbolized the night sky and the Aztecs fed the hearts of their sacrificial victims to these big cats. They are natives to areas from Argentina to Central America and Mexico, although they also live in smaller numbers in the Southwest of the United States. in 1997, the jaguar was placed on the list of endangered species in the U.S., although it had already been listed in Mexico. These beautiful animals have been hunted for their exquisite spotted fur, as well as hunted to protect domestic livestock. They are solitary animals whose territories are broad depending upon the abundance of prey for food. The jaguar is comfortable in scrub lands and swampy wetlands, as well as densely forested areas. This jaguar is lazily lying on a tree branch, perhaps scouting for prey? Or maybe he's just taking a nap... The clasp is a flower and there is a porcelain sign inside showing the universal NO sign against fur coats. The box is marked Artoria Peint Main, Limoges France and is signed and numbered by the artist. Approximate size is 2½ x 2¾ inches.

Copyright © 2017 GroundStrike Collectibles. All rights reserved. Do not copy.

Move mouse over pictures for different views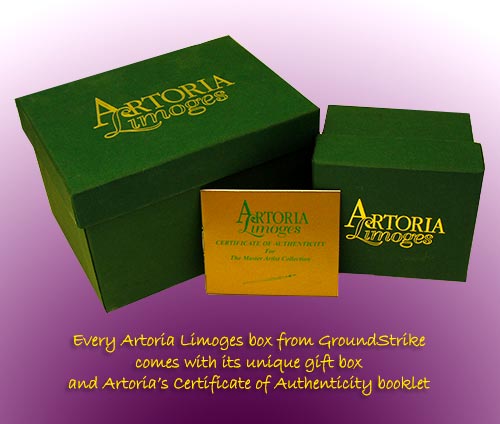 Every genuine Limoges box is an individual, hand crafted work of art. Colors, clasps, rims, details, and markings may vary from those shown. These photographs are from representative samples of this Limoges box; your box may not match this box exactly. Read About Limoges Boxes for more information.