| | |
| --- | --- |
| | |
| | |
| | |
| | |
| | |
| | |
| | |
| | |
| | |
| | |
| | |
| | |
| | |
| | |
| | |
| | |
| | |
| | |
| | |
| | |
| | |
| | |
| | |
| | |
| | |
| | |
| | |
| | |
| | |
| | |
| | |
| | |
| | |
| | |
| | |
| | |
| | |
| | |
| | |
| | |
| | |
| | |
| | |
| | |
| | |
| | |
| | |
| | |
| | |
| | |
| | |
| | |
| | |
| | |
| | |
| | |
| | |
| | |
| | |
| | |
| | |
| | |
| | |
| | |
| | |
| | |
| | |
| | |
| | |
| | |
| | |
| | |
| | |
| | |
| | |
| | |
| | |
| | |
| | |


Artoria Red Eyed Tree Frog Limoges Box
Item 2139 - Retail price $299.95
Our Discount Price $247.95 - Save $52!
Special Order item - may take 1-3 months for delivery
(your credit card will not be charged until item ships; you may cancel order at any time)

This box is part of Artoria's Endangered Species Collection. Artoria will donate 10% of the sales proceeds of the Endangered Species Collection to three conservation groups: Rainforest Foundation, Wildlife Conservation Society and Tanzania Wildlife Fund. There exist more than 600 species of tree frogs in the world today. Most of these frogs, like the red-eyed frog, are native to the rainforests of Central South America. The existence of many of these frogs is threatened by the "slash and burn" agriculture used in these countries, resulting in the loss of more than one acre of rainforest every second! Other problems such as global warming, wetland drainage, pollution and acid rain are all beginning to take a serious toll on the natural habitat of these tree frogs, especially since they "breathe" through their sensitive skin. Although new species of frogs are being discovered in the tropics all the time, we are also beginning to see alarming decreases in the tree frog populations.

The red-eyed frog has become the "poster child" of certain environmental organizations. This red-eyed frog is climbing up a bamboo stalk. A couple of colorful, yummy bugs are crawling on the other side. The clasp is an insect and there is another insect painted inside. The box is marked Artoria Peint Main, Limoges France and is signed and numbered by the artist. Approximate size is 1 x 2¼ inches.

Copyright © 2017 GroundStrike Collectibles. All rights reserved. Do not copy.

Move mouse over pictures for different views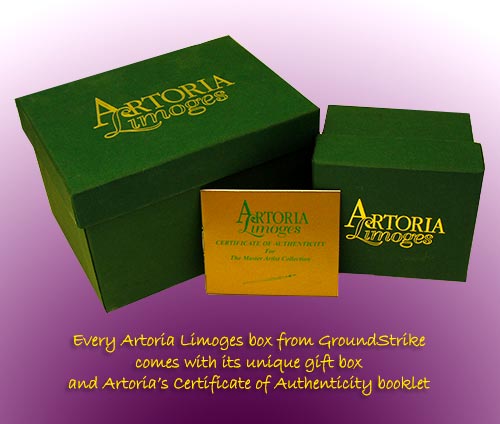 Every genuine Limoges box is an individual, hand crafted work of art. Colors, clasps, rims, details, and markings may vary from those shown. These photographs are from representative samples of this Limoges box; your box may not match this box exactly. Read About Limoges Boxes for more information.