| | |
| --- | --- |
| | |
| | |
| | |
| | |
| | |
| | |
| | |
| | |
| | |
| | |
| | |
| | |
| | |
| | |
| | |
| | |
| | |
| | |
| | |
| | |
| | |
| | |
| | |
| | |
| | |
| | |
| | |
| | |
| | |
| | |
| | |
| | |
| | |
| | |
| | |
| | |
| | |
| | |
| | |
| | |
| | |
| | |
| | |
| | |
| | |
| | |
| | |
| | |
| | |
| | |
| | |
| | |
| | |
| | |
| | |
| | |
| | |
| | |
| | |
| | |
| | |
| | |
| | |
| | |
| | |
| | |
| | |
| | |
| | |
| | |
| | |
| | |
| | |
| | |
| | |
| | |
| | |
| | |
| | |


Artoria Golden Toad Limoges Box
Item 2140 - Retail price $349.95
Our Discount Price $292.99 - Save $56.95!
In Stock - Usually ships in 7-10 days
(your credit card will not be charged until item ships)

This box is part of Artoria's Endangered Species Collection. Artoria will donate 10% of the sales proceeds of the Endangered Species Collection to three conservation groups: Rainforest Foundation, Wildlife Conservation Society and Tanzania Wildlife Fund. The Monteverde golden toad, a native of the mist-shrouded tropical rain forests of Costa Rica, was first observed in the 1960's. However, they quickly began to vanish. Only 10 were sighted in 1988, then only one the following year, and none has been seen since. The toads can live up to 12 years. Does the fact that no one has seen them for 11 years mean that they are now virtually extinct? Like other amphibians, the golden toad's demise was probably caused by a number of environmental factors including pollution of waterways, acid rain, climate changes such as global warming, ultraviolet radiation, as well as over exploitation by humans as a source of food (Americans ate frogs legs from 26 million frogs between 1981 and 1984!) and for their skins for wallets and purses in Brazil and Thailand. This gold toad is climbing up a bamboo stalk. A butterfly is resting on the other side. The clasp is an insect and there is another insect painted inside. The box is marked Artoria Peint Main, Limoges France and is signed and numbered by the artist. Approximate size is 1 x 2¼ inches.

Copyright © 2017 GroundStrike Collectibles. All rights reserved. Do not copy.

Move mouse over pictures for different views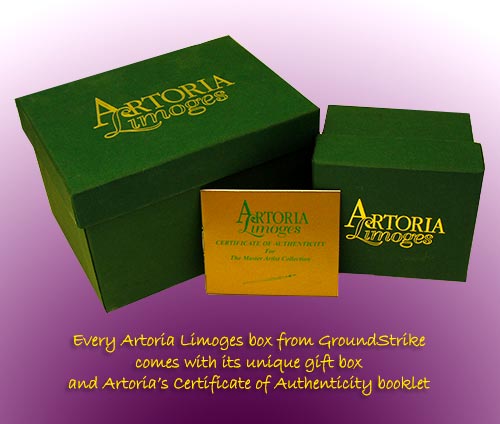 Every genuine Limoges box is an individual, hand crafted work of art. Colors, clasps, rims, details, and markings may vary from those shown. These photographs are from representative samples of this Limoges box; your box may not match this box exactly. Read About Limoges Boxes for more information.