| | |
| --- | --- |
| | |
| | |
| | |
| | |
| | |
| | |
| | |
| | |
| | |
| | |
| | |
| | |
| | |
| | |
| | |
| | |
| | |
| | |
| | |
| | |
| | |
| | |
| | |
| | |
| | |
| | |
| | |
| | |
| | |
| | |
| | |
| | |
| | |
| | |
| | |
| | |
| | |
| | |
| | |
| | |
| | |
| | |
| | |
| | |
| | |
| | |
| | |
| | |
| | |
| | |
| | |
| | |
| | |
| | |
| | |
| | |
| | |
| | |
| | |
| | |
| | |
| | |
| | |
| | |
| | |
| | |
| | |
| | |
| | |
| | |
| | |
| | |
| | |
| | |
| | |
| | |
| | |
| | |
| | |


Artoria Strawberry Poison Dart Frog Limoges Box
Item 2141 - Retail price $349.95
Our Discount Price $292.99 - Save $56.95!
In Stock - Usually ships in 7-10 days
(your credit card will not be charged until item ships)

This box is part of Artoria's Endangered Species Collection. Artoria will donate 10% of the sales proceeds of the Endangered Species Collection to three conservation groups: Rainforest Foundation, Wildlife Conservation Society and Tanzania Wildlife Fund. The beautifully colored poison dart frogs are so named because tribes native to the South American rain forests have long used the poisonous secretions from their skin to poison their hunting dart tips. One frog can produce enough poison to treat as many as 50 darts. The brilliant warning colors of these frogs is a signal to their natural enemies that they should be avoided. Their natural habitat, the warm, moist rainforest floors in Central and South America, are fast being destroyed by depletion of the rainforests. These frogs are among the first to be places on the endangered species list. Recently, Abbott Labs discovered that their poison can be used to create a new painkiller, 200 more times powerful than morphine and non-addictive. It would be a shame to let these species disappear forever. This strawberry poison dart frog is climbing up a bamboo stalk. A nice fat caterpillar is resting on the other side. The clasp is an insect and there is another insect painted inside. The box is marked Artoria Peint Main, Limoges France and is signed and numbered by the artist. Approximate size is 1 x 2¼ inches.

Copyright © 2017 GroundStrike Collectibles. All rights reserved. Do not copy.

Move mouse over pictures for different views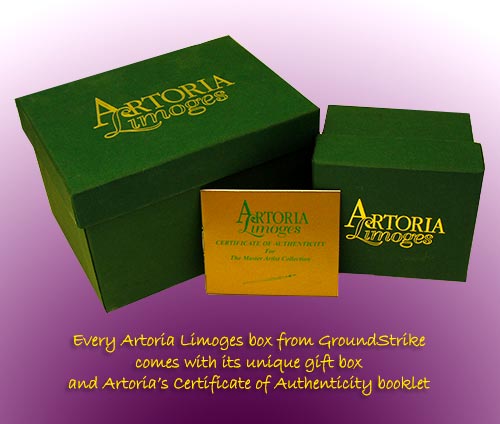 Every genuine Limoges box is an individual, hand crafted work of art. Colors, clasps, rims, details, and markings may vary from those shown. These photographs are from representative samples of this Limoges box; your box may not match this box exactly. Read About Limoges Boxes for more information.