| | |
| --- | --- |
| | |
| | |
| | |
| | |
| | |
| | |
| | |
| | |
| | |
| | |
| | |
| | |
| | |
| | |
| | |
| | |
| | |
| | |
| | |
| | |
| | |
| | |
| | |
| | |
| | |
| | |
| | |
| | |
| | |
| | |
| | |
| | |
| | |
| | |
| | |
| | |
| | |
| | |
| | |
| | |
| | |
| | |
| | |
| | |
| | |
| | |
| | |
| | |
| | |
| | |
| | |
| | |
| | |
| | |
| | |
| | |
| | |
| | |
| | |
| | |
| | |
| | |
| | |
| | |
| | |
| | |
| | |
| | |
| | |
| | |
| | |
| | |
| | |
| | |
| | |
| | |
| | |
| | |
| | |


Artoria Lynn Haney Santa: Snowbound Limoges Box
Item 2146 - Retail price $349.95
Our Discount Price $292.99 - Save $56.95!
In Stock - Usually ships in 7-10 days
(your credit card will not be charged until item ships)

This beautiful Limoges box was designed by Lynn Haney, a well known artist famous for designing collectible Santa dolls. in this case, he has designed a Santa reminiscent of Victorian times, wearing a dark green coat with white fur trim around the edges and cuffs and a matching green hat. Santa is holding a wooden toy boat with paddle and has a lantern in his hand. A golden Labrador dog with a bouquet of red flowers is sitting in the snow at his side. The yellow light from the lantern is shining on the dog and the fur on Santa's coat, hopefully illuminating them so someone will come help. Santa's beard is as white as the snow he is walking through and it ripples almost down to his waist. The clasp is a wreath and there is a lovely snowflake painted inside. The box is marked Artoria Peint Main, Limoges France and is signed and numbered by the artist. Approximate size is 2½ x 3½ inches.

Copyright © 2018 GroundStrike Collectibles. All rights reserved. Commercial use prohibited.

Move mouse over pictures for different views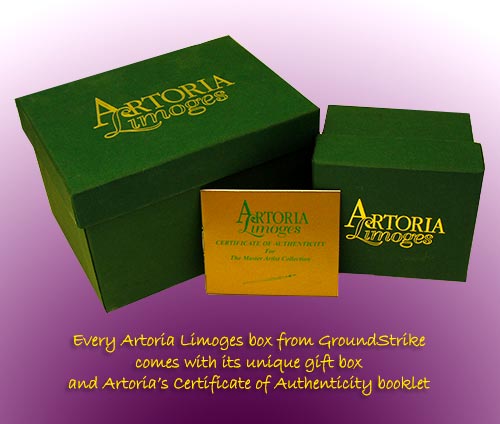 Every genuine Limoges box is an individual, hand crafted work of art. Colors, clasps, rims, details, and markings may vary from those shown. These photographs are from representative samples of this Limoges box; your box may not match this box exactly. Read About Limoges Boxes for more information.