| | |
| --- | --- |
| | |
| | |
| | |
| | |
| | |
| | |
| | |
| | |
| | |
| | |
| | |
| | |
| | |
| | |
| | |
| | |
| | |
| | |
| | |
| | |
| | |
| | |
| | |
| | |
| | |
| | |
| | |
| | |
| | |
| | |
| | |
| | |
| | |
| | |
| | |
| | |
| | |
| | |
| | |
| | |
| | |
| | |
| | |
| | |
| | |
| | |
| | |
| | |
| | |
| | |
| | |
| | |
| | |
| | |
| | |
| | |
| | |
| | |
| | |
| | |
| | |
| | |
| | |
| | |
| | |
| | |
| | |
| | |
| | |
| | |
| | |
| | |
| | |
| | |
| | |
| | |
| | |
| | |
| | |


Artoria Papillon Dog Limoges Box
Item 2158 - Retail price $269.95
Our Discount Price $226.99 - Save $42.96!
In Stock - Usually ships in 7-10 days
(your credit card will not be charged until item ships)

This sweet little spaniel is a lovely Papillon dog, with a fluffy white coat and bronze marking on her head and tail. Papillon is a French word meaning butterflies, so it a appropriate that she is standing on a purple flower blossom surrounded by colorful butterflies. The clasp is a tiny butterfly and there is a butterfly painted inside. The box is marked Artoria Peint Main, Limoges France and is signed and numbered by the artist. Approximate size is 2¼ x 2¼ inches.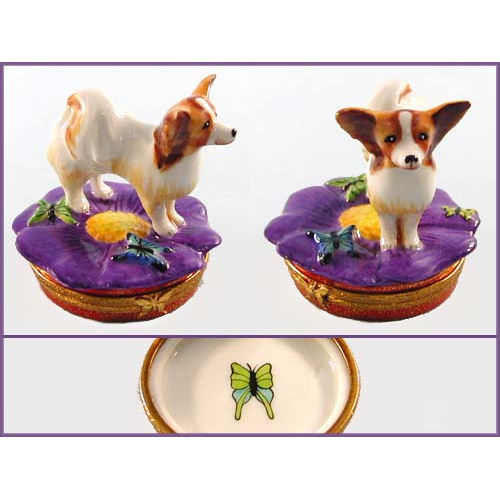 Copyright © 2017 GroundStrike Collectibles. All rights reserved. Do not copy.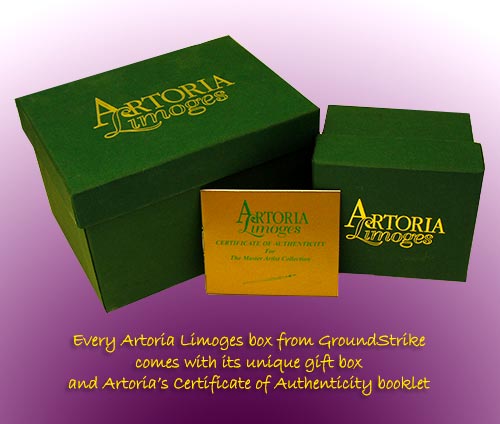 Every genuine Limoges box is an individual, hand crafted work of art. Colors, clasps, rims, details, and markings may vary from those shown. These photographs are from representative samples of this Limoges box; your box may not match this box exactly. Read About Limoges Boxes for more information.