| | |
| --- | --- |
| | |
| | |
| | |
| | |
| | |
| | |
| | |
| | |
| | |
| | |
| | |
| | |
| | |
| | |
| | |
| | |
| | |
| | |
| | |
| | |
| | |
| | |
| | |
| | |
| | |
| | |
| | |
| | |
| | |
| | |
| | |
| | |
| | |
| | |
| | |
| | |
| | |
| | |
| | |
| | |
| | |
| | |
| | |
| | |
| | |
| | |
| | |
| | |
| | |
| | |
| | |
| | |
| | |
| | |
| | |
| | |
| | |
| | |
| | |
| | |
| | |
| | |
| | |
| | |
| | |
| | |
| | |
| | |
| | |
| | |
| | |
| | |
| | |
| | |
| | |
| | |
| | |
| | |
| | |


Artoria Christmas Cat Limoges Box
Item 2160 - Retail price $399.95
Our Discount Price $333.99 - Save $65.95!
In Stock - Usually ships in 7-10 days
(your credit card will not be charged until item ships)

This sweet tabby cat doesn't need Christmas gifts to celebrate the season - she'll just play with the ornaments instead! And it looks like she is making quite a mess! A long red ribbon is wrapped around her feet and over her tail, and there are four ornaments that are getting batted all around. Well, it could be worse - she could be in the Christmas tree instead! The clasp is a Christmas bell and there is a Christmas tree painted inside. The box is marked Artoria Peint Main, Limoges France and is signed and numbered by the artist. Approximate size is 2¼ x 1¾ inches.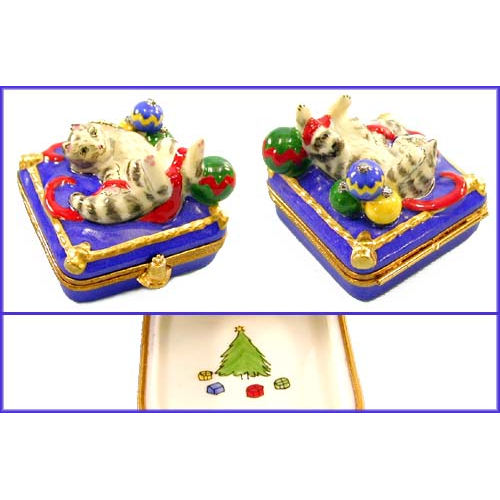 Copyright © 2018 GroundStrike Collectibles. All rights reserved. Commercial use prohibited.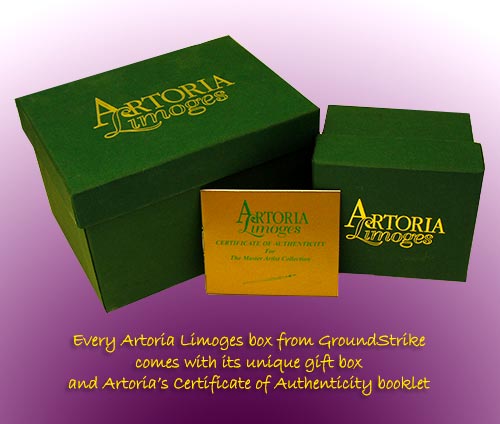 Every genuine Limoges box is an individual, hand crafted work of art. Colors, clasps, rims, details, and markings may vary from those shown. These photographs are from representative samples of this Limoges box; your box may not match this box exactly. Read About Limoges Boxes for more information.