| | |
| --- | --- |
| | |
| | |
| | |
| | |
| | |
| | |
| | |
| | |
| | |
| | |
| | |
| | |
| | |
| | |
| | |
| | |
| | |
| | |
| | |
| | |
| | |
| | |
| | |
| | |
| | |
| | |
| | |
| | |
| | |
| | |
| | |
| | |
| | |
| | |
| | |
| | |
| | |
| | |
| | |
| | |
| | |
| | |
| | |
| | |
| | |
| | |
| | |
| | |
| | |
| | |
| | |
| | |
| | |
| | |
| | |
| | |
| | |
| | |
| | |
| | |
| | |
| | |
| | |
| | |
| | |
| | |
| | |
| | |
| | |
| | |
| | |
| | |
| | |
| | |
| | |
| | |
| | |
| | |
| | |


Artoria Safari Binoculars Limoges Box
Item 2168 - Retail price $289.95
Our Discount Price $239.95 - Save $50!
Special Order item - may take 1-3 months for delivery
(your credit card will not be charged until item ships; you may cancel order at any time)

This is a very stylish binoculars case, decorated in a leopard jungle print. It say SAFARI on the top and there is a gold handle painted on the front. The clasps are two tiny padlocks and there is a pair of porcelain binoculars tucked inside. The box is marked Artoria Peint Main, Limoges France and is signed and numbered by the artist. Approximate size is 2¾ x 2¾ inches.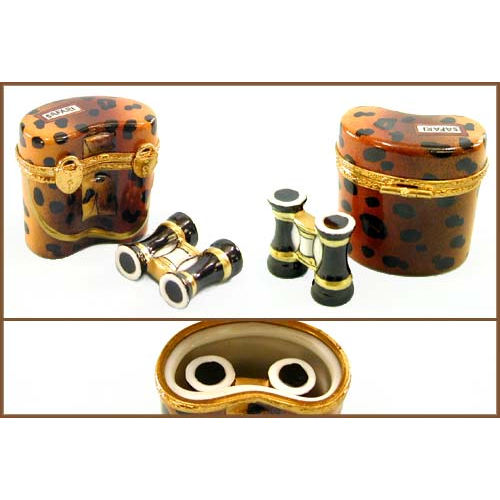 Copyright © 2018 GroundStrike Collectibles. All rights reserved. Commercial use prohibited.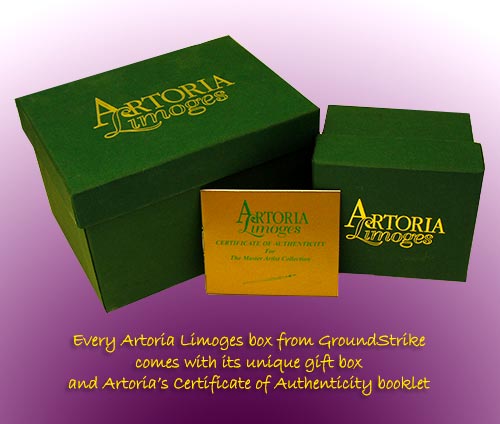 Every genuine Limoges box is an individual, hand crafted work of art. Colors, clasps, rims, details, and markings may vary from those shown. These photographs are from representative samples of this Limoges box; your box may not match this box exactly. Read About Limoges Boxes for more information.