| | |
| --- | --- |
| | |
| | |
| | |
| | |
| | |
| | |
| | |
| | |
| | |
| | |
| | |
| | |
| | |
| | |
| | |
| | |
| | |
| | |
| | |
| | |
| | |
| | |
| | |
| | |
| | |
| | |
| | |
| | |
| | |
| | |
| | |
| | |
| | |
| | |
| | |
| | |
| | |
| | |
| | |
| | |
| | |
| | |
| | |
| | |
| | |
| | |
| | |
| | |
| | |
| | |
| | |
| | |
| | |
| | |
| | |
| | |
| | |
| | |
| | |
| | |
| | |
| | |
| | |
| | |
| | |
| | |
| | |
| | |
| | |
| | |
| | |
| | |
| | |
| | |
| | |
| | |
| | |
| | |
| | |


Artoria Panda Family Limoges Box
Item 2185 - Retail price $459.95
Our Discount Price $379.95 - Save $80!
Special Order item - may take 1-3 months for delivery
(your credit card will not be charged until item ships; you may cancel order at any time)

This box is part of Artoria's Endangered Species Collection. Artoria will donate 10% of the sales proceeds of the Endangered Species Collection to three conservation groups: Rainforest Foundation, Wildlife Conservation Society and Tanzania Wildlife Fund. Once believed to be semne by the Chinese, only 1,000 giant pandas remain in the world today of which 140 are in captivity. They were first placed on the Endangered Species list in 1984. The last wild pandas occupy an area in Southern China amounting to 5,000 square miles of isolated patches of mountain and bamboo forests. They have become a symbol of wildlife conservation. Man is the panda's only real natural enemy, and in the last 30 years, the region in China where the panda lives has lost 30 percent of its bamboo forests. Roughly 95 percent of the panda's diet consists of bamboo stalks and roots. A solitary animal, they rarely breed in captivity making the survival of the species dependent upon man's efforts to preserve their natural habitat. This loving mama panda is munching on a bamboo stalk, and appears to be comfortably sitting among a bunch of green leaves. The clasp is a leaf and her tiny baby is hidden inside. The box is marked Artoria Peint Main, Limoges France and is signed and numbered by the artist. Approximate size is 2 x 3 inches.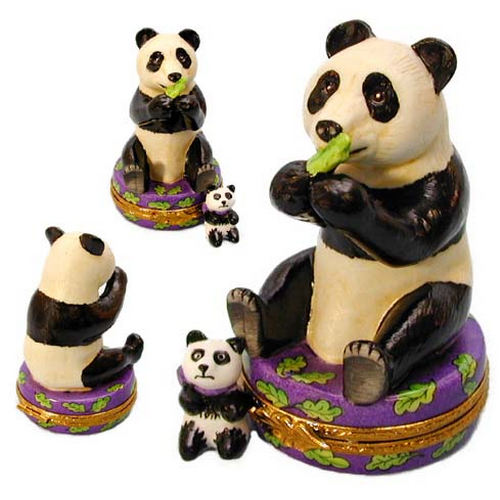 Copyright © 2017 GroundStrike Collectibles. All rights reserved. Do not copy.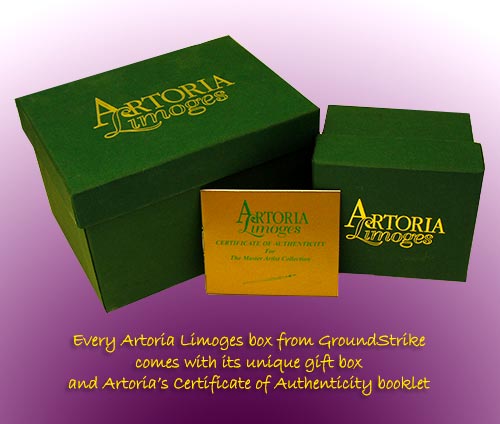 Every genuine Limoges box is an individual, hand crafted work of art. Colors, clasps, rims, details, and markings may vary from those shown. These photographs are from representative samples of this Limoges box; your box may not match this box exactly. Read About Limoges Boxes for more information.