| | |
| --- | --- |
| | |
| | |
| | |
| | |
| | |
| | |
| | |
| | |
| | |
| | |
| | |
| | |
| | |
| | |
| | |
| | |
| | |
| | |
| | |
| | |
| | |
| | |
| | |
| | |
| | |
| | |
| | |
| | |
| | |
| | |
| | |
| | |
| | |
| | |
| | |
| | |
| | |
| | |
| | |
| | |
| | |
| | |
| | |
| | |
| | |
| | |
| | |
| | |
| | |
| | |
| | |
| | |
| | |
| | |
| | |
| | |
| | |
| | |
| | |
| | |
| | |
| | |
| | |
| | |
| | |
| | |
| | |
| | |
| | |
| | |
| | |
| | |
| | |
| | |
| | |
| | |
| | |
| | |
| | |


Artoria Bald Eagle Limoges Box
Item 2186 - Retail price $419.95
Our Discount Price $346.95 - Save $73!
Special Order item - may take 1-3 months for delivery
(your credit card will not be charged until item ships; you may cancel order at any time)

This box is part of Artoria's Endangered Species Collection. Artoria will donate 10% of the sales proceeds of the Endangered Species Collection to three conservation groups: Rainforest Foundation, Wildlife Conservation Society and Tanzania Wildlife Fund. The bald eagle became the national symbol of the United States in 1782. It is a powerful symbol of freedom and is the eagle unique to North America. By 1940, the bald eagle was already threatened with extinction. Congress quickly passed the Bald Eagle Protection Act which made it illegal to kill, sell or harass a bald eagle. By 1967, the bald eagle was listed as an endangered species. The greatest threat for the bird came from the widespread use of the chemical pesticide known as DDT after World War II. Eagles laid eggs whose shells were so thin that they often broke before the eaglet could hatch. Fortunately, conservation efforts have successfully increased the bald eagle population to the point where the bird was finally removed from the endangered species list on July 2, 1999. Finally, a successful story for all of us! This majestic bird is swooping down to snatch a fish from a stream. His wings are incredible and are very detailed, right down to the tail feathers. The clasp is an eagle and there is a United States flag painted inside. The box is marked Artoria Peint Main, Limoges France and is signed and numbered by the artist. Approximate size is 2¾ x 3 inches.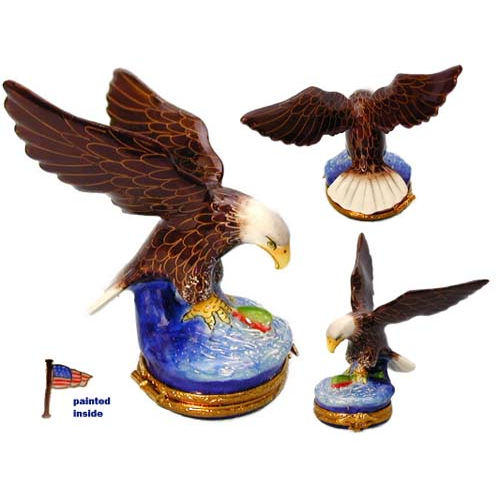 Copyright © 2019 GroundStrike Collectibles. All rights reserved.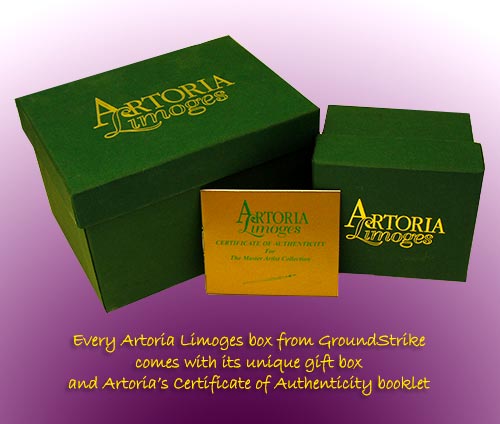 Every genuine Limoges box is an individual, hand crafted work of art. Colors, clasps, rims, details, and markings may vary from those shown. These photographs are from representative samples of this Limoges box; your box may not match this box exactly. Read About Limoges Boxes for more information.