| | |
| --- | --- |
| | |
| | |
| | |
| | |
| | |
| | |
| | |
| | |
| | |
| | |
| | |
| | |
| | |
| | |
| | |
| | |
| | |
| | |
| | |
| | |
| | |
| | |
| | |
| | |
| | |
| | |
| | |
| | |
| | |
| | |
| | |
| | |
| | |
| | |
| | |
| | |
| | |
| | |
| | |
| | |
| | |
| | |
| | |
| | |
| | |
| | |
| | |
| | |
| | |
| | |
| | |
| | |
| | |
| | |
| | |
| | |
| | |
| | |
| | |
| | |
| | |
| | |
| | |
| | |
| | |
| | |
| | |
| | |
| | |
| | |
| | |
| | |
| | |
| | |
| | |
| | |
| | |
| | |
| | |


Artoria Blue Whale Limoges Box
Item 2189 - Retail price $219.95
Our Discount Price $185.99 - Save $33.96!
In Stock - Usually ships in 7-10 days
(your credit card will not be charged until item ships)

This box is part of Artoria's Endangered Species Collection. Artoria will donate 10% of the sales proceeds of the Endangered Species Collection to three conservation groups: Rainforest Foundation, Wildlife Conservation Society and Tanzania Wildlife Fund. The blue whale is the largest living animal in the world, measuring up to 100 feet long and 196 tons in weight! This gentle giant has a slate-blue skin and feeds exclusively on tiny krill, a shrimp-like animal. During the later 19th and early 20th centuries, the blue whale was hunted nearly to extinction by commercial whalers seeking to market the animal's valuable blubber. in the 1960's a worldwide ban on hunting the blue whale was put into effect. As a result, the blue whale population has increased to an estimated 10,000 to 12,000 duals. However, the blue whale continues to be threatened by the effects of pollution, especially oil pollution, and experts are still not certain as to whether the current population will be enough to sustain the species and protect it from extinction. This giant whale is bluer than the sea, and much, much bigger than the tiny porcelain sailboat tucked away inside. Check out the blowhole on top! The box is marked Artoria Peint Main, Limoges France and is signed and numbered by the artist. Approximate size is 2½ x 1¾ inches.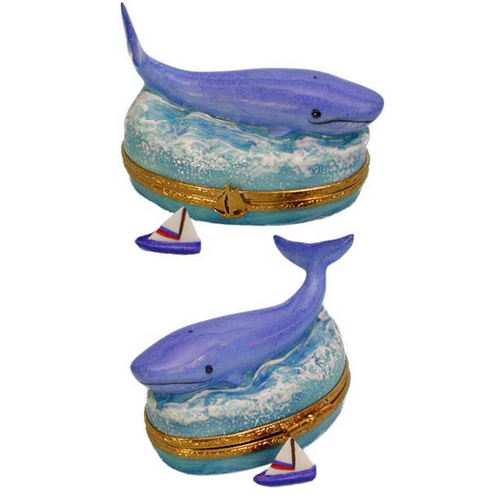 Copyright © 2016 GroundStrike Collectibles. All rights reserved. Do not copy.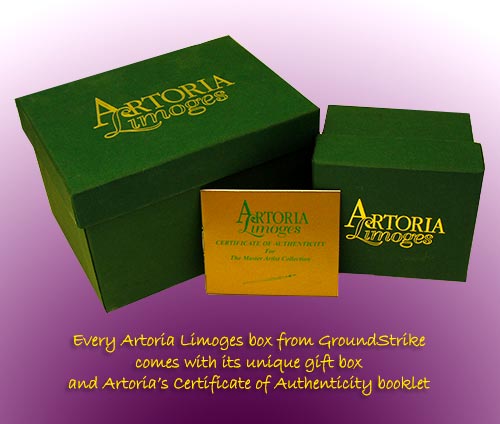 Every genuine Limoges box is an individual, hand crafted work of art. Colors, clasps, rims, details, and markings may vary from those shown. These photographs are from representative samples of this Limoges box; your box may not match this box exactly. Read About Limoges Boxes for more information.