| | |
| --- | --- |
| | |
| | |
| | |
| | |
| | |
| | |
| | |
| | |
| | |
| | |
| | |
| | |
| | |
| | |
| | |
| | |
| | |
| | |
| | |
| | |
| | |
| | |
| | |
| | |
| | |
| | |
| | |
| | |
| | |
| | |
| | |
| | |
| | |
| | |
| | |
| | |
| | |
| | |
| | |
| | |
| | |
| | |
| | |
| | |
| | |
| | |
| | |
| | |
| | |
| | |
| | |
| | |
| | |
| | |
| | |
| | |
| | |
| | |
| | |
| | |
| | |
| | |
| | |
| | |
| | |
| | |
| | |
| | |
| | |
| | |
| | |
| | |
| | |
| | |
| | |
| | |
| | |
| | |
| | |


Artoria Spotted Owl Limoges Box
Item 2192 - Retail price $389.95
Our Discount Price $321.95 - Save $68!
Special Order item - may take 1-3 months for delivery
(your credit card will not be charged until item ships; you may cancel order at any time)

This box is part of Artoria's Endangered Species Collection. Artoria will donate 10% of the sales proceeds of the Endangered Species Collection to three conservations groups: Rainforest Foundation, Wildlife Conservation Society and Tanzania Wildlife Fund. The fight to save the spotted owl from extinction has become one of the most celebrated battlegrounds between the timber industry and conservationists. The first recorded sighting was in 1858 and, due to the declines in population, the spotted owl was placed on the Endangered Species list in 1990. The owl is endangered as a result of logging and timber harvest activities which have destroyed its forest habitats, primarily in the older forests of the Pacific Northwest. In 1993, the Federal government reduced logging activities on Federal lands to less than 1/4 of that permitted during the 1980's. This has resulted in fierce lawsuits brought by angry loggers who have lost significant sources of income. However, the spotted owl population's decline has slowed considerably to only 4 percent a year, leading to guarded optimism that the species may be saved.

This gorgeous bird has incredible spotted feathers and is sitting on a tree limb covered with green leaves and moss. Tucked inside is a tiny piece of Grade A Lumber, a reminder that sometimes we must choose to make changes to help save a species. The box is marked Artoria Peint Main, Limoges France and is signed and numbered by the artist. Approximate size is 1¾ x 2¼ inches.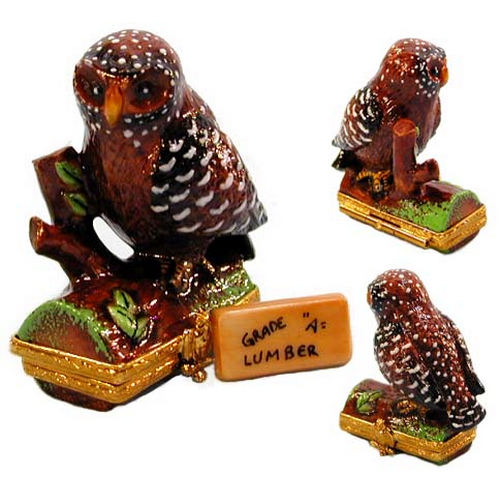 Copyright © 2017 GroundStrike Collectibles. All rights reserved. Do not copy.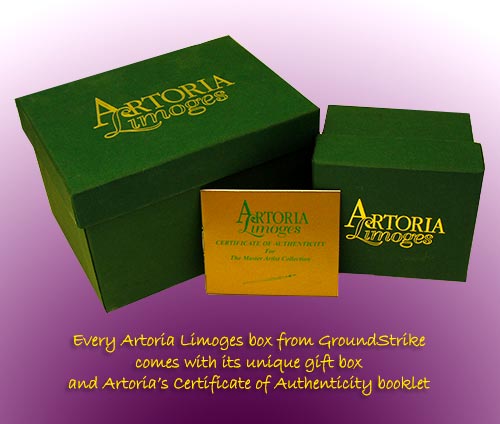 Every genuine Limoges box is an individual, hand crafted work of art. Colors, clasps, rims, details, and markings may vary from those shown. These photographs are from representative samples of this Limoges box; your box may not match this box exactly. Read About Limoges Boxes for more information.