| | |
| --- | --- |
| | |
| | |
| | |
| | |
| | |
| | |
| | |
| | |
| | |
| | |
| | |
| | |
| | |
| | |
| | |
| | |
| | |
| | |
| | |
| | |
| | |
| | |
| | |
| | |
| | |
| | |
| | |
| | |
| | |
| | |
| | |
| | |
| | |
| | |
| | |
| | |
| | |
| | |
| | |
| | |
| | |
| | |
| | |
| | |
| | |
| | |
| | |
| | |
| | |
| | |
| | |
| | |
| | |
| | |
| | |
| | |
| | |
| | |
| | |
| | |
| | |
| | |
| | |
| | |
| | |
| | |
| | |
| | |
| | |
| | |
| | |
| | |
| | |
| | |
| | |
| | |
| | |
| | |
| | |


Artoria Komodo Dragon Limoges Box
Item 2193 - Retail price $479.95
Our Discount Price $399.99 - Save $79.95!
In Stock - Usually ships in 7-10 days
(your credit card will not be charged until item ships)

This box is part of Artoria's Endangered Species Collection. Artoria will donate 10% of the sales proceeds of the Endangered Species Collection to three conservations groups: Rainforest Foundation, Wildlife Conservation Society and Tanzania Wildlife Fund. Strangely, the komodo dragon, the largest and most powerful lizard in the world, is now an endangered species. The komodo dragon is itself a powerful predator and can run up to 11 miles per hour to catch deer, goat, wild boar and occasionally even other komodos or humans as prey. First discovered in 1911, the reptile is thought to have been stranded during the last Ice Age in the Indonesian Islands of Komodo, Rintja, Padar, Flores, Gilli, Mota and Owadi Sami where it exists exclusively today. It is estimated that there are only between 1,000 and5,000 such reptiles in existence. The Indonesian government has converted two islands into nature preserves for the komodo dragon and has banned all commercial trade of specimens or skins. These conservation efforts have increased the komodo dragon population over the last several years. This incredible lizard is a must-have for anyone who grew up watching movies about prehistoric monsters - this one is the real thing! He is impressive with thick legs, a powerful tail and a long forked tongue to help him locate his prey. The base of the box is painted in bold blue with flames around the edges. Painted inside is a medieval shield and sword, typical weapons to aid in guarding against a dragon! The box is marked Artoria Peint Main, Limoges France and is signed and numbered by the artist. Approximate size is 3 x 1½ inches.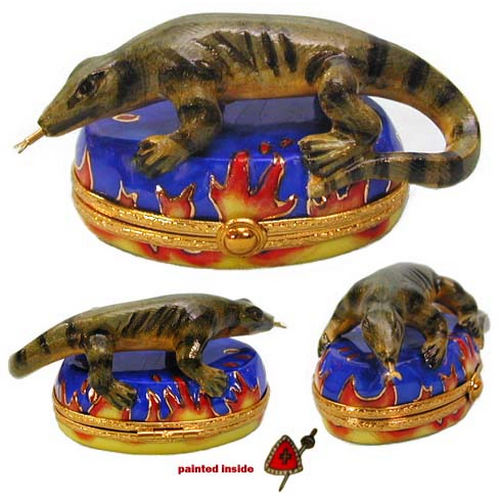 Copyright © 2017 GroundStrike Collectibles. All rights reserved. Do not copy.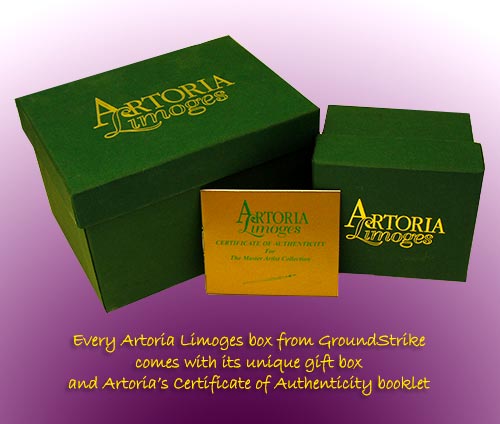 Every genuine Limoges box is an individual, hand crafted work of art. Colors, clasps, rims, details, and markings may vary from those shown. These photographs are from representative samples of this Limoges box; your box may not match this box exactly. Read About Limoges Boxes for more information.