| | |
| --- | --- |
| | |
| | |
| | |
| | |
| | |
| | |
| | |
| | |
| | |
| | |
| | |
| | |
| | |
| | |
| | |
| | |
| | |
| | |
| | |
| | |
| | |
| | |
| | |
| | |
| | |
| | |
| | |
| | |
| | |
| | |
| | |
| | |
| | |
| | |
| | |
| | |
| | |
| | |
| | |
| | |
| | |
| | |
| | |
| | |
| | |
| | |
| | |
| | |
| | |
| | |
| | |
| | |
| | |
| | |
| | |
| | |
| | |
| | |
| | |
| | |
| | |
| | |
| | |
| | |
| | |
| | |
| | |
| | |
| | |
| | |
| | |
| | |
| | |
| | |
| | |
| | |
| | |
| | |
| | |


Artoria Lynn Haney Gumdrop Witch Limoges Box
Item 2195 - Retail price $449.95
Our Discount Price $375.99 - Save $73.95!
In Stock - Usually ships in 7-10 days
(your credit card will not be charged until item ships)

A perfect touch for Halloween, this Gumdrop Witch is modeled after a Lynn Haney creation. She is standing holding an armload of goodies, including candy and dolls. Baskets of sweets are slung over her shoulder and under her arm. She is wearing the traditional pointy black witch's hat but has added a nice touch by decorating it with yummy gumdrops! The box is marked Artoria Peint Main, Limoges France and is signed and numbered by the artist. Approximate size is 2 x 3¼ inches.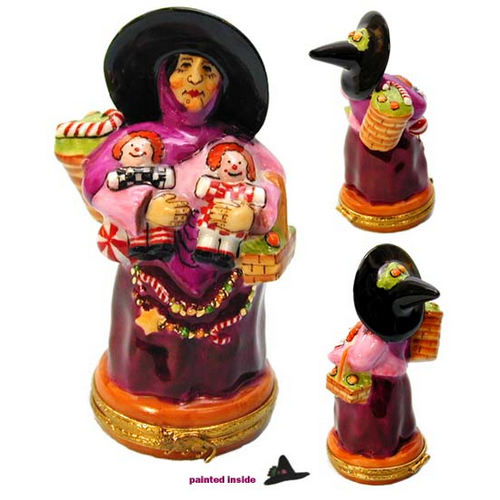 Copyright © 2019 GroundStrike Collectibles. All rights reserved.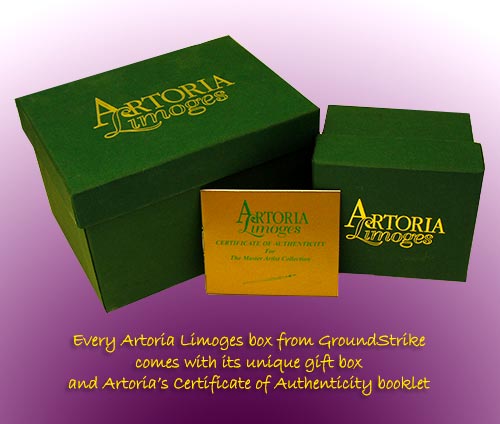 Every genuine Limoges box is an individual, hand crafted work of art. Colors, clasps, rims, details, and markings may vary from those shown. These photographs are from representative samples of this Limoges box; your box may not match this box exactly. Read About Limoges Boxes for more information.