| | |
| --- | --- |
| | |
| | |
| | |
| | |
| | |
| | |
| | |
| | |
| | |
| | |
| | |
| | |
| | |
| | |
| | |
| | |
| | |
| | |
| | |
| | |
| | |
| | |
| | |
| | |
| | |
| | |
| | |
| | |
| | |
| | |
| | |
| | |
| | |
| | |
| | |
| | |
| | |
| | |
| | |
| | |
| | |
| | |
| | |
| | |
| | |
| | |
| | |
| | |
| | |
| | |
| | |
| | |
| | |
| | |
| | |
| | |
| | |
| | |
| | |
| | |
| | |
| | |
| | |
| | |
| | |
| | |
| | |
| | |
| | |
| | |
| | |
| | |
| | |
| | |
| | |
| | |
| | |
| | |
| | |


Artoria School Bus Limoges Box
Item 2198 - Retail price $379.95
Our Discount Price $313.95 - Save $66!
Special Order item - may take 1-3 months for delivery
(your credit card will not be charged until item ships; you may cancel order at any time)

For the teacher, or maybe the high school graduate who NEVER wants to ride in a bus again, here is a cheery yellow school bus! A tall door is painted on one side and a red STOP sign on a bar is on the other. School Bus is written on the sides and on the front. There are red flashers on the back, for safety's sake. Each tire is black with silver hubcaps in the center. The box is marked Artoria Peint Main, Limoges France and is signed and numbered by the artist. Approximate size is 2¾ x 1½ inches.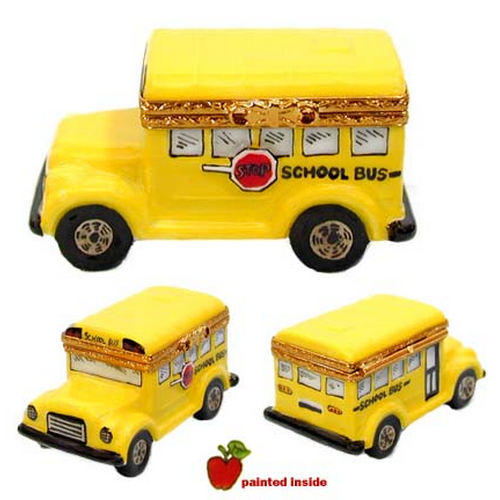 Copyright © 2018 GroundStrike Collectibles. All rights reserved. Commercial use prohibited.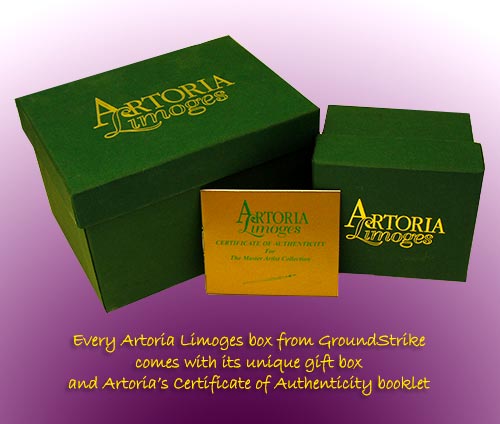 Every genuine Limoges box is an individual, hand crafted work of art. Colors, clasps, rims, details, and markings may vary from those shown. These photographs are from representative samples of this Limoges box; your box may not match this box exactly. Read About Limoges Boxes for more information.