| | |
| --- | --- |
| | |
| | |
| | |
| | |
| | |
| | |
| | |
| | |
| | |
| | |
| | |
| | |
| | |
| | |
| | |
| | |
| | |
| | |
| | |
| | |
| | |
| | |
| | |
| | |
| | |
| | |
| | |
| | |
| | |
| | |
| | |
| | |
| | |
| | |
| | |
| | |
| | |
| | |
| | |
| | |
| | |
| | |
| | |
| | |
| | |
| | |
| | |
| | |
| | |
| | |
| | |
| | |
| | |
| | |
| | |
| | |
| | |
| | |
| | |
| | |
| | |
| | |
| | |
| | |
| | |
| | |
| | |
| | |
| | |
| | |
| | |
| | |
| | |
| | |
| | |
| | |
| | |
| | |
| | |


Rochard Nesting Russian Dolls Limoges Box
Item 4004 - Retail price $545.95
Our Discount Price $463.95 - Save $82!
Special Order item - may take 1-3 months for delivery
(your credit card will not be charged until item ships; you may cancel order at any time)

Anyone who is a fan of nesting Russian dolls will be thrilled with this set of Limoges boxes! Each box is beautifully decorated like a Russian woman, each wearing a different colored scarf and fabulous outfit. They nestle inside each other, or may be displayed separately. The largest doll is marked Rochard Peint Main, Limoges France and is signed by the artist. Approximate size is 1¾ x 1¾ x 2¾ inches.

Copyright © 2018 GroundStrike Collectibles. All rights reserved. Commercial use prohibited.

Move mouse over pictures for different views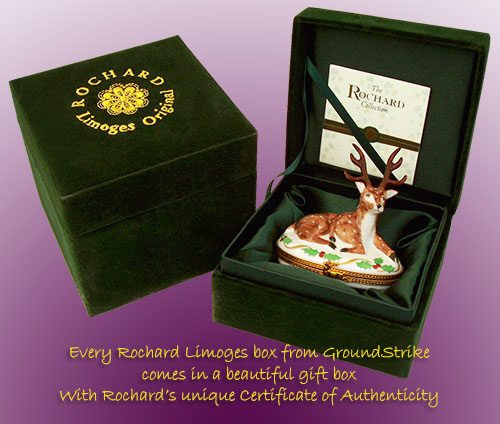 Every genuine Limoges box is an individual, hand crafted work of art. Rochard is well known for consistency in its Limoges boxes; however, colors, clasps, rims, details, and markings may vary from those shown. These photographs are from representative samples of this Limoges box; your box may not match this box exactly. Read About Limoges Boxes for more information.